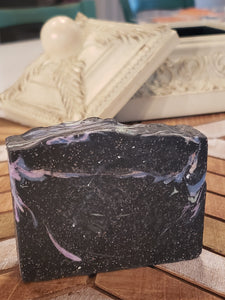 Power Wash Soap with Activated Charcoal and Tea Tree Oil!
Activated Charcoal is extra-cleansing and detoxifying. Scented with fresh orange and lemongrass. PERFECT FOR FOLKS WHO WORK HARD AND PLAY HARD, and get sweaty or messy!
This rugged soap will make your entire body extra-clean, smooth, and happy. It is CERTIFIED CLEANNESS for rugby athletes, mixed martial artists, baseball players, football players, Brazilian Jiu Jitsu, Krav Maga, Extreme Sports and anyone who likes to play rough. Rumor has it that facial oiliness and acne get the KO from this soap. Feel the Power Wash!
Olive, Palm, Coconut, Avocado Oils, Shea Butter and Goat Milk , Tea Tree Oil, Activated Charcoal